THE WHOLE IS MORE …
… than the sum of its parts. We know that the key to Ganter's success is the motivation, the creativity and the interaction between every member of our team. That is why we really are interested in you. We offer the best training and continuing education options and a wide variety of jobs with prospects for advancement.
"The start of my career at Ganter was my apprenticeship as a technical draftsman in 2006. I improved my skills with my A-levels and my studies, while always working in project management at the same time. This allowed me to develop continuously - from Design Engineer to Senior Project Manager.
I like to work independently. This has given me more and more responsibility and has always allowed me a lot of freedom in my day-to-day work. I always find an open ear here for my wishes and career goals, which is why I also feel very comfortable at Ganter. I come from the region and really appreciate living and working here.
We support international customers with our services as a general contractor. My portfolio is full of varied references such as Cowboy's first German brand store in Berlin: simply extremely cool e-bikes in a reduced design - exactly to my taste."
Felix Glöckle
Business Team Manager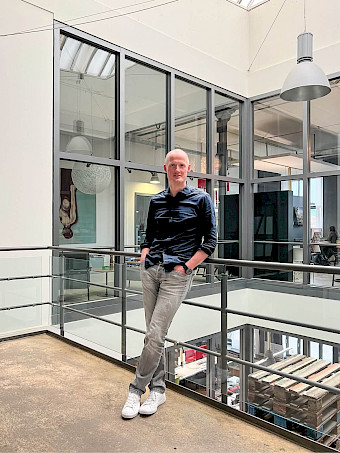 "When I came to Ganter in Waldkirch in 2008, I had my carpentry apprenticeship and master craftsman's certificate as well as several years of work experience with designer and artist Joseph Walsh in his studio in Ireland and Sunac Woodwork in Canada. I wanted to move on and travel the world.
During a spontaneous job interview with Ganter, it quickly became clear to me: you won't get bored here. There are lots of exciting projects with well-known clients to realise and I'll probably get my travel expenses too. After only eight years I had travelled almost the entire globe.
I can say of myself that I have always seized the opportunities that Ganter offered me. Since 2020, I've been managing my own division as Business Unit Manager with currently seventeen employees, and the trend is rising."
Martin Wehrle
Business Unit Manager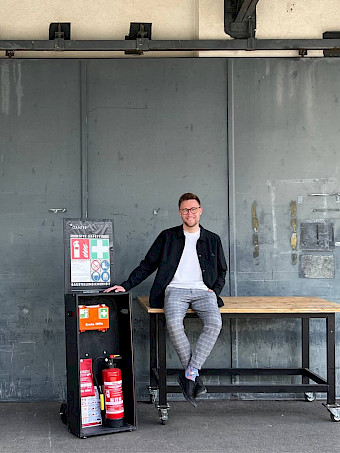 "During my apprenticeship as a technical product designer at the Ganter Group, I was always considered and valued as a full team member. We had many exciting trainee projects, such as the mobile construction site box and as "project manager" I was part of our trainee team and accompanied the box until the project was completed.
But what would work be without the right colleagues? Not only at work level, but also in my private life I was able to experience what real teamwork means. New friendships made it easy for me to arrive in Freiburg and at Ganter."
Robert Schulze
Technical Project Operation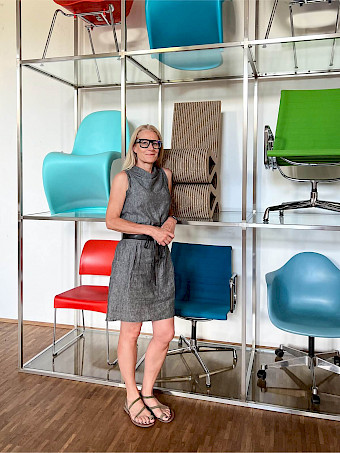 "After studying architecture in Venice and various career stations that finally took me as far as Asia, my start at Ganter was initially a real culture shock for me. In 2017, I moved directly from Shanghai to the residential team in Waldkirch in the Black Forest as a project manager.
However, due to my love of challenging projects, I quickly returned to the vibrant city of New York to realise the expansion of Pace University in downtown Manhattan for Ganter. To today, this is one of my absolute favourite projects, just like the office in New York based on a fabulous interior concept by Christian Halleröd for a well-known American fashion label.
Numerous major international projects followed, and I got to know many countries and inspiring people during my work. I now appreciate my adopted home near Freiburg all the more as a home base for my personal work-life balance."
Paola Veronese
Senior Project Manager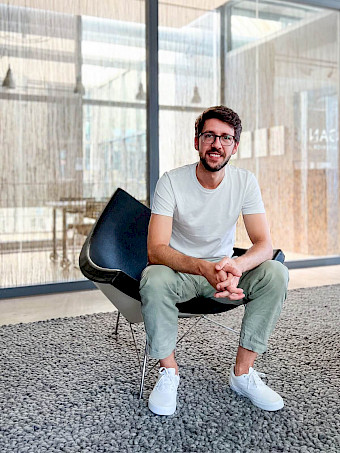 With my university degree in my pocket, I was gripped by wanderlust in the summer of 2018. My destination was Germany – I wanted to stay for a maximum of one year. I wanted to learn perfect German in two months, then gain practical experience as an architect and fly back to Argentina. I quickly realised that my plan would not work out. Two months turned into eight.
Shortly afterwards I had my first job interview with Jan Hendrick Vlijt from the Ganter Group. Jan wanted to have the interview with me in English because he wanted to give me the chance to feel 'more confident and comfortable', which I appreciated. He said: 'Language is not a barrier with us'. However, I was keen to use the German I had just learned and we talked in German. Today I know that at that very moment I had made an impression and gained a big plus point. The following Monday, we said yes to each other.
Luciano Ferraris Rostock
Project Manager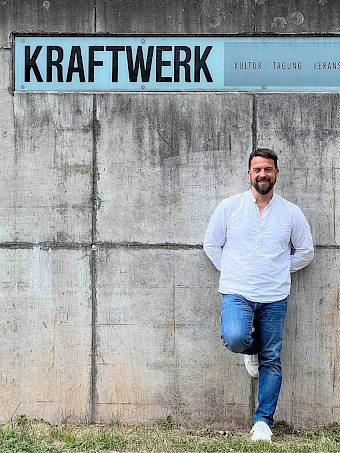 My start at the Ganter Group was in 2006: with a short stopover in trade fair construction, I came fresh from the technical college for wood technology in Detmold. Before that, after my carpentry apprenticeship in Essen, I had worked as a journeyman for three years, one of them in Dublin. I remember how impressed I was after my first visit to Ganter – by the power plant, by the offices, but above all by the atmosphere. I really wanted to go there!
Now I've been at Ganter for over 15 years, and if I have my way, I'd love to add another 15. Even though my roots are in the Ruhr area, I am at home here in Waldkirch with my family and have found a wonderful second home.
I have recently been appointed Managing Director of the Ganter Group and although the focus of my work has changed over the years, one thing has always remained the same: My joy in coming here every day and tackling the challenges together with great colleagues. The company's course is set for success!
Jan Hendrick Vlijt
COO
As an HR Business Partner, I am responsible for very different topics at the Ganter Group. And that's a good thing, because I love variety in my day-to-day job.
I look after many employees at our headquarters in Waldkirch, but also at the branches in Tauberbischofsheim and Schenkon in Switzerland. I really enjoy my days away from my office. I like the change of scenery in between and I always look forward to meeting my colleagues and hearing their individual job and everyday stories.
What is especially important to me is our employee satisfaction. It is important to me that my colleagues enjoy coming to work, after all, we spend a lot of time together as a team. Many factors play a role here: Generation Y and the Corona pandemic have turned the job market inside out, and the demands on Ganter as an employer have changed. As a human resources manager, I find it exciting to react to this changed situation, to develop new ideas, to adapt processes and to work in a future-oriented way.
Linda Louise Leimenstoll
HR Business Partner
During my time at the Ganter Group, I had the opportunity to work with many interesting clients from a wide range of industries, from Vertu to Burberry and Montblanc to Lynk & Co. Together we have realised projects all over the world, which I look back on fondly – despite some stressful situations.
At Ganter we are always breaking new ground. That is a quality that is important to me and that I value very much. Alongside the open company culture, it was a very decisive reason why I came back to Ganter in 2019 after three years.
Recently, the topic of sustainability has become more and more important. Many of our customers have set themselves the goal of becoming more sustainable. And like many others, the topic drives me, which is why I'm currently working on my MBA in sustainability management.
In shopfitting, we certainly still have a long way to go, but we are taking it step by step and trying to improve in small and large ways.
Thomas Zeiske
Senior Project Manager
After twelve years of project business in the Ganter Group, managing my own energy throughout the day, but also over weeks, months and years, is essential in addition to managing interior design projects. I need new energy to be able to perform and succeed in the long term. This makes a good work-life balance all the more important for me. I need it to adjust my rhythm and to recharge my energy level again and again.
Sport of all kinds offers me the perfect balance to my job. That's why I'm also pleased that we at Ganter have the opportunity to take advantage of the company fitness programme offered by Hansefit. We are very fortunate here in the region to have numerous partners. The choice is huge!
In addition, the Black Forest naturally offers fantastic nature experiences for small and large outdoor adventures at any time of year – all right on my doorstep. Simply super!
Sebastian Mais
Business Team Manager
The word love means a lot to me. Oh, I dare say it is the basis for everything. Life gives you so many beautiful love relationships. And I don't just mean partnerships, friendships and family relationships. I also mean the professional ones. No matter what I've done professionally so far, and some of these stations were unplanned, I just slipped into it, my heart was in it every single time. 100 %. I love facing new people and challenges. They enrich me and my life.
In my job as Content Marketing Manager in the Ganter Group, it is important for me to get to know the people in the company. They help me to do my job better. They provide me with the information, stories and anecdotes I need to write texts – for example for blog posts, references and social media.
My colleagues play a big part in the fact that I love what I do every day.
Peggy Kirchenkamp
Content Marketing Manager
A few years ago, I moved from Freiburg im Breisgau to Switzerland, to the beautiful Sempachersee in the canton of Lucerne. The reason for this was my change of job within the Ganter Group from Team Germany to Team Switzerland.
My colleagues made my arrival very easy. I already knew some of them from when I wrote my bachelor's thesis there and from the annual company parties at the headquarters in Waldkirch.
In Schenkon, my love for the mountains has grown even more. As a triathlete, I find perfect training conditions there. To be able to prepare optimally for a triathlon, I need a lot of time. Ganter as an employer allows me to organise my working hours flexibly. This flexibility takes a lot of organisational stress away from me. I appreciate that very much.
Patrick Schmitt
Business Team Manager Schweiz