GANTER GROUP APPRENTICESHIP
We especially promote and accompany particularly motivated people with a varied, realistic and demanding training programme that offers a wide variety of opportunities for development.
apprenticeships at Ganter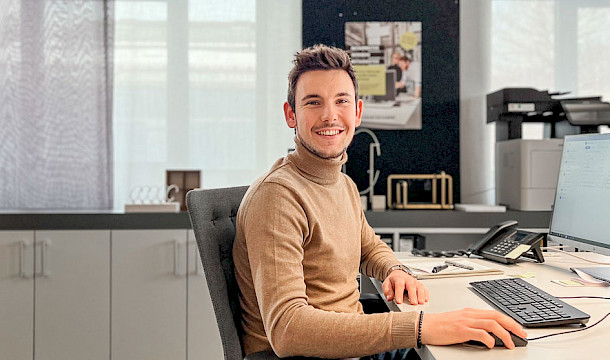 INDUSTRIAL MANAGEMENT (M/F/D)
As an organisational talent, you are open to varied tasks in a wide range of company areas from materials management and marketing & sales to human resources and financial accounting. You support the project teams in communicating with (inter)national customers, business partners and colleagues.
Qualification
Commercial vocational college I, Intermediate or advanced technical college entrance qualification, Secondary school for economics or commercial high school advantageous.
Length of course
3-year dual training (can be shortened to 2.5 years with good performance)
Skills
Deep interest in commercial and organisational responsibilities
Communication skills and team spirit
Familiarity with MS Office
Good command of English
TECHNICAL PRODUCT DESIGNER (M/F/D) DISCIPLINE: PRODUCT DESIGN AND CONSTRUCTION
Discipline: Product Design and Construction
You like to create technical drawings with CAD programs in 2D and 3D for furniture and interior fittings and calculate the materials needed. You support the technical project management in realising unique design concepts for our customers.
Qualification
Technical Vocational College, Baccalaureate,  technical vocational college, or completion of technical secondary school. 
Vocational school for wood or alternatively carpentry apprenticeship
Length of course
3.5-year dual training (can be shortened to three years with good performance)
Skills
Good visual thinking and excellent technical understanding
Pleasure in working with display, image editing, and drafting programs
Familiarity with MS Office
Good command of English
IT SYSTEM INTEGRATION SPECIALIST (M/F/D)
In our IT/EDP department you will analyse, plan and implement hardware and software solutions for the specialist departments. You will design, install and maintain our EDP networks, client-server applications and communication systems. Additionally, you will be the contact person for other employees and support them with any questions and problems they may have in connection with IT and communications technology.
Qualification
Intermediate or advanced technical college entrance qualification, A-levels, vocational college
Length of course
Skills
Take pleasure in information and communication technology solutions
Strong interest in mathematics and technology
Communication skills and team spirit
Basic knowledge of MS Office
Good command of English